If you are busy like I am, I'd like to share a bunch of storage and freezing tips for green juice. Among other things, I manage an Internet startup, I blog on several sites, run the Smoothie a Day newsletter and am a part-time model (ok fine, the modeling thing hasn't happened yet but a guy has to dream right?).
Remember that the absolute most important rule to living and eating healthy is TO BE PREPARED. Freezing the green juice makes sure I am always prepared.
You can check out some green juice recipes and my semi-updated green lemonade recipe. Most green juice experts will tell you that you should drink the juice immediately after making it in your juicer. I use the Omega 330HD juicer and absolutely love it and have been told that it has one of the longest times to hold the juice before the oxidation process begins. But frankly I just don't have the time to make green juice each day. And I am drinking 1 liter of juice a day so I would have to make it each day. The 330HD is easy to clean which is great, but it is still a chore to make the juice and to have the ingredients on hand each day.
What I have been doing is make a huge batch of juice once or twice a week. I freeze the juice and pull out two jars each evening and the juice is ready for me in a jiffy. Here is what my freezer looks like today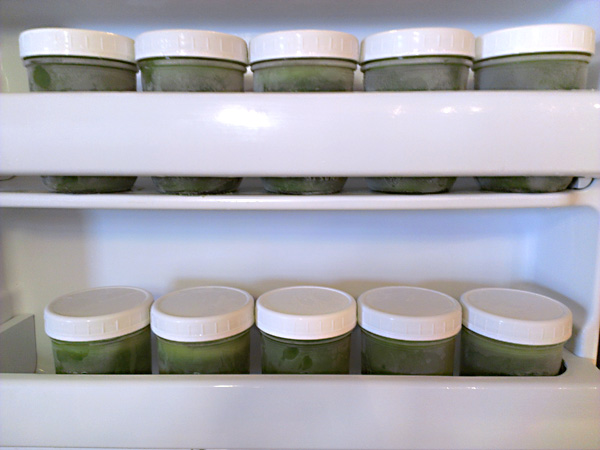 Juice Supplies and Storage Tips
The jars are mason jars that I purchased at Walmart. Make sure the jars you select say "freezer safe" – I found Walmart to have the best prices – way better than even Amazon. The mason jars I use are 16 ounce, wide-mouth jars. Walmart has a variety of sizes of mason jars – again, just make sure they say freezer-safe. A package of 12 jars was about $9 and are available in-store only.
The case of jars will come with metal lids that are basically one-time lids made for canning. In the photo above, you can see I am using white plastic lids. These are also sold at Walmart in a package of 8 and are about $3. They are reusable and are perfect for freezing your juices. Make sure you select the lids to match the type of jar you purchase (e.g. wide mouth or regular mouth).
Here are two photos I took at Walmart – left picture is the jars (pint freezer-safe jars) and right picture are the lids.

For a fun project — take the metal lids that come with the jars and DIY them into straw lids.
Juice Freezing Tips
When I first started freezing the juice, I would take a jar out in the afternoon and leave it on the counter to defrost. This method worked but it would make the juice separate. I would shake it up but it just never tasted exactly the same as the freshly-made juice. Later on I realized that there had to be a better way and there is!
First, when you are making the juice, immediately freeze it as soon as you put the juice in the jar. I don't mean when you finish the batch, I mean immediately after you fill up each jar. The sooner you get the juice into the freezer, the closer to fresh it will be.
Next, when you want to consume the juice, take a bowl and fill it with room temperature water. You don't need to use hot water for this technique. Place the jar of juice into the bowl and make sure the water level reaches the top of the juice jar. I've found that in about 30 minutes the juice is ready for drinking. The juice will still be cold and it won't have separated.
I've found this method works for all sorts of fresh juices – green juice, carrot juice, apple juice, pear juice, etc.
Now just because you are busy during the week is not an excuse for not drinking your green juice!