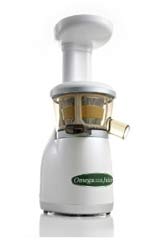 My juicer arrived yesterday and I couldn't wait to rip open the box and get to green juicing. After watching many of John's videos, I decided on the Omega 330HD low speed vertical masticating juicer. Apparently this is one of the better juicers out there because it goes at a slow speed so it keeps more of the nutrients in versus the high speed juicers. It is supposedly great with greens like kale and collards. It is so quiet that you could make a juice in the morning without waking your family. I can't wait to experiment with all sorts of different types of juices.
I decided to make a go with my first green juice with the following ingredients. I had no idea going in if this juice would taste good but I am happy to say that it is ok. I think next time I will up the sweetness a bit and probably make sure the apple is very cold before juicing. I would also move up to a full lemon as I read that the lemon juice helps beat the kale which has such a lovely taste (not).
1 large english cucumber
1/2 bunch kale
1/4 bunch curly parsley
1 large apple
1/2 lemon
First up is the produce straight from the store (lemon was shy and asked not to be photographed):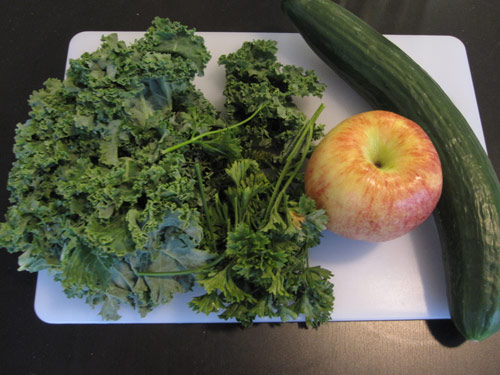 Here is the produce cutup and ready to be juiced into a green juice – the key is to make sure you cutup the produce properly and also feed it into the machine in a varied order. Don't put all the kale then all the apple…instead you should put some kale, then a piece of the cucumber, then apple, etc. This helps the juicer to push everything out.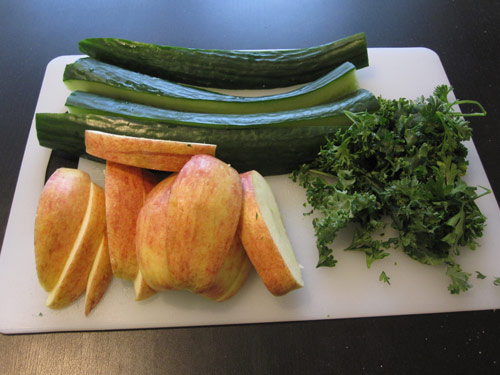 And here is the final juice. It definitely tastes different than the smoothies but I think I can get used to this and I am sure I will find an awesome combination of fruits and veggies as a go-to juice while I experiment. I welcome any suggestions for juices in the comments!