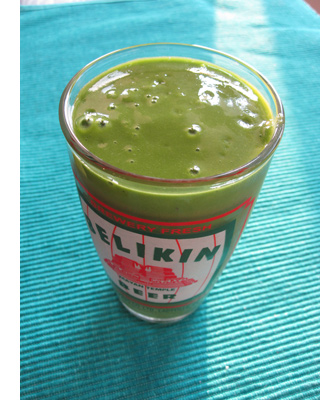 I love my morning green smoothies! There's nothing like a green smoothie for weight loss. So far every superfood smoothie recipe I've tried has tasted great and I look forward to sharing my concoctions with ya'all. Today's smoothie menu is a Mango-rific Super Green Smoothie!
(check out all of my smoothie recipes)
And remember the most important part of making your own smoothies: experiment! First, it will help you find the recipes and the ingredients you enjoy and second, it will help you get great variety in the nutrients your putting into your body.
Mango Green Smoothie Recipe
Ingredients
one banana (can be frozen or fresh)
2 cups mango chunks (it's about 30 chunks)
6 oz orange juice (freshly squeezed or not)
6 oz water
one teaspoon maca powder (optional; this is the superfood)
one tablespoon chia seeds (optional; if you add the chia seeds, make sure you consume the smoothie after blending because otherwise the chia grows like the chia pet and will make the smoothie a bit like pudding)
spinach (as much as you can fit in your blender – I used about ⅓ pound or 4 huge handfuls)
Instructions
Blend until you reach your desired consistency
This recipe makes about 28-32oz of smoothie and I used a Blendtec blender to whip it up. I used organic spinach, organic orange juice, organic banana — the mango chunks were conventional.