I'd like to share my recipe for a super simple acai berry green superfood smoothie. I've been hooked on Acai Bowls since the nutritionist I worked with recommended a local acai bowl shop here in Austin, Blenders & Bowls (my review). The acai bowl is a frozen treat that is amazingly healthy and has a soft-serve ice cream texture. I can't ever imagine wanting to eat ice cream again as I'd rather have an acai bowl.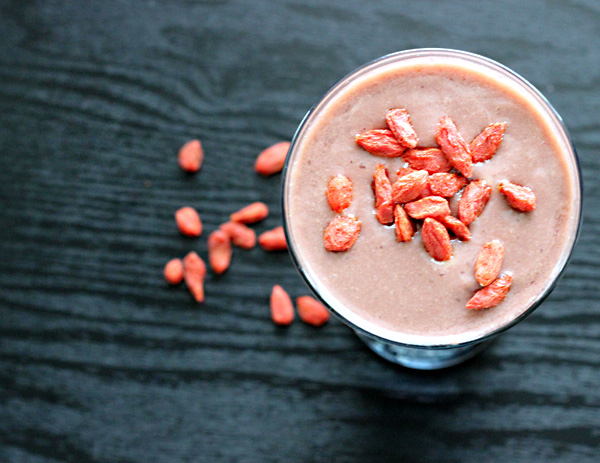 I've been adding acai berry powder to my green smoothies for months and really have found that the superfood helps with feeling great and losing weight. WebMD has more information about the acai berry and the nutritional benefits of this awesome superfood. They note, "Some studies show that acai fruit pulp has a very high antioxidant capacity with even more antioxidant content than cranberry, raspberry, blackberry, strawberry, or blueberry."
I wanted to create a simple green smoothie that uses the acai berry mix with minimal ingredients. The popular brand of the acai berry mix is from Sambazon. The Sambazon acai berry mix is available in a 4-pack in the freezer case for about $5 at health food retailers like Whole Foods and Central Market. Make sure you purchase the "unsweetened" version – it is the package with the purple stripe on the top – not the orange or green stripe as those have sweeteners and/or other stuff which we don't need for our smoothies.
This smoothie is perfect for those just starting out with green smoothies. It tastes great and has a very creamy texture. The pure acai berry smoothie pack has a variety of Omega fatty acids including 45 mg Omega 3, 595 mg Omega 6 and 3225 mg Omega 9. This recipe is a modified version from the one included on the Sambazon package to increase the nutrition by adding greens and reducing the sugar.
Acai Berry Green Smoothie Recipe
Ingredients
1 packet Sambazon frozen acai berry mix
4 ounces water
4 ounces apple juice
2-3 large handfuls of spinach
1 frozen banana
goji berries (optional)
Instructions
Run the acai berry mix under warm water to soften the mix a bit.
Blend
Top with goji berries
Enjoy