I've started to love salads over the past few months. Here's a super simple salad recipe with a few secret ingredients that will get non-salad eaters to eat their greens and veggies! I guarantee it!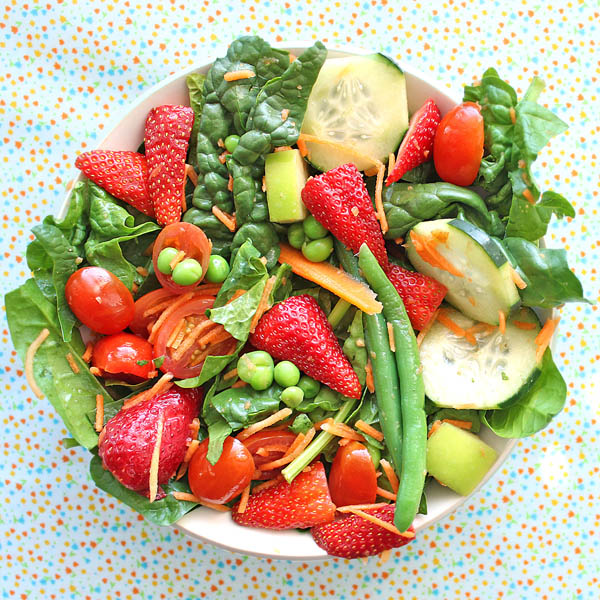 Since I started this healthy journey, salads were definitely something that I didn't dive into. Eventually I found that eating a package of spring mix worked but it became boring and frankly seemed to take forever for me to chew. Then I started drinking green smoothies so the spinach went mainly into the smoothies so the spring mix wasn't needed anymore.
When I attended a Whole Foods cooking class last year, I learned how to make a raw kale salad which I've enjoyed several times since and served to friends who also thought it was awesome (one of them couldn't believe they were eating kale!). Last month I posted a bunch of salad recipes that I tested the past couple of months and slowly but surely I have realized I really enjoy a good salad.
First, I can get a salad basically anywhere so if friends or family want to go somewhere that might not be super healthy, as long as they have a salad on the menu, I will be fine. Second, here's a tip I learned…salads are just like smoothies, just throw a bunch of veggies you like together and you will be good to go. There are 87 million salad recipes and all of them can be modified to your liking, you don't need to be precise with a salad like you would with a baked pastry for example.
Now here is the secret that I learned about making salads that have awesome flavor, crunch and keep me coming back for more. Add some strawberries or apple cubes to the salad! I know this might sound odd but seriously, the first time I tried a salad with strawberries in it, I was shocked at how awesome it was. You don't need a lot of strawberries, just 2-3 sliced and immediately the salad with have more flavor and won't feel so "flat". I am not into salad dressings and what I've found is that the juice from the strawberries gives the overall salad a flavor of a dressing without the weight of oil, etc.
Here is the super simple salad recipe that I keep going back to. I like it because there are enough different textures in the salad to keep it crunchy and it's not just a bunch of green leafy veggies.
Super Simple Salad Recipe
Ingredients
5 ounces fresh spinach
½ cucumber (I like the English cucumber)
handful of fresh peas
1 carrot shredded
8 grape tomatoes sliced in half
8 green beans – trim ends and cut in half
½ green apple cut in small chunks
3 strawberries sliced thinly
fresh squeezed lime or lemon juice (optional)
Instructions
Put all the stuff in a bowl, toss and enjoy. Can't get easier than that!
You could also add some peppers or onions for even more crunchy-ness. I like to top the salad with a lime grilled chicken to make a great dinner.