Here's my easy recipe for a strawberry superfood smoothie that will keep your energy on high all day and help you lose weight.
If you have been to LTF before, you already know how much I love my green smoothies. If you are new to LTF, welcome and I hope you stay a while. From a weight loss perspective, green smoothies have made the biggest impact on my health. If you haven't tried green smoothies, check out my starter guide which is packed with info on smoothies. And signup for my Smoothie a Day newsletter where I send out one healthy smoothie each weekday.
I think this is my favorite green smoothie. If you don't have the superfoods on hand, or don't want to buy them just yet, you can easily make this smoothie sans superfoods. In fact, the strawberry-apple juice-banana-spinach combo is one of the best green smoothies to get started with. You can add in as many or as few of the superfoods as you have. The flax and chia are the least expensive and the acai is the most expensive.
Please share this wonderful recipe: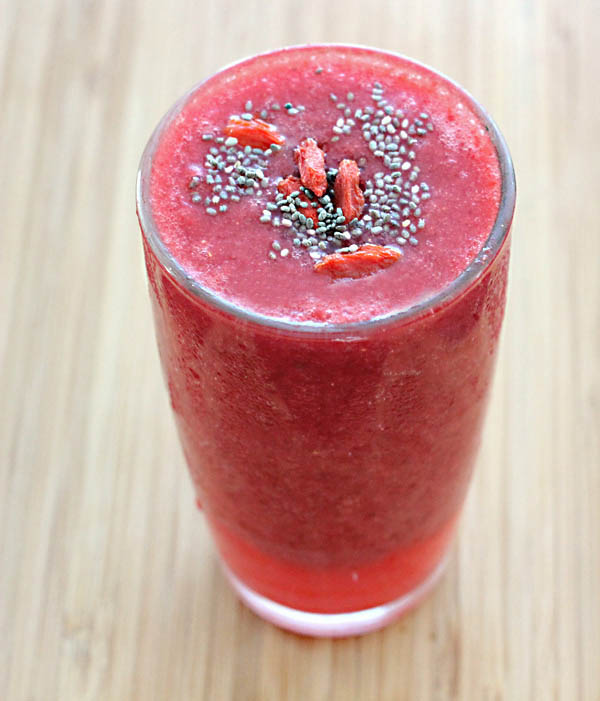 This superfood smoothie uses the following superfoods: chia, acai, flax and ginger (I consider it a superfood). Even if you don't want to try the superfoods, you should definitely try the ginger. It's just a few cents per smoothie and since I started adding ginger to my smoothies, I've noticed an increase in my health. What's great about all of these superfoods is that they don't change the taste of the smoothie but increase the nutrition and the health benefits of the smoothie bigtime.
You can buy the superfoods at online retailers — I've found the best prices at Amazon and iHerb. You can also find the flax seeds and the chia seeds in the bulk department at Whole Foods and other natural grocers. This might be a good way to get started as you can buy a small amount before you invest in a larger bag of each. My favorite brand of superfoods is Navitas Naturals.
Here are some quick highlights of the health benefits of each of the superfoods.
Chia (more):
Chia seeds can help reduce blood pressure. The seeds contain one of the highest known plant sources of essential fatty acids (omega-3 and omega-6).

Chia seeds slow down the rate at which complex carbohydrates are digested and then assimilated into the body. The soluble fiber helps to stabilize blood glucose levels resulting in steady, sustained energy.
Flax (more):
The first unique feature of flax is its high omega-3 fatty acid content. Among all 129 World's Healthiest Foods, flaxseeds comes out number one as a source of omega-3s.
The strong fiber content of flaxseeds—including their mucilaginous fiber—help to delay gastric emptying and can improve intestinal absorption of nutrients. Flaxseed fibers also help to steady the passage of food through our intestines.
Acai (more):
The acai berries have powerful detoxification capacities in the human body and is a well-known traditional source of dietary fiber.
Acai berries contain anti-inflammatory properties that may prevent the typical inflammation response associated with allergic reactions.
Acai berries may contribute to an ability to slow or reverse typical processes of aging related to inflammation and cellular oxidative damage…the berries are one of the planets highest sources of antioxidants.
Strawberry Superfood Smoothie Recipe
Ingredients
1 cup strawberries
1 banana (frozen)
4 ounces apple juice (no sugar added)
4 ounces water
2 handfuls spinach
1 tablespoon acai berry powder
2 tablespoons flax seeds
2 tablespoons chia seeds
½ inch piece of ginger
Instructions
Add everything to your blender, blend until smooth
Top with optional chia seeds
Enjoy!