For this last week of Lemonade Smoothie Month, I decided to use a fruit that I seem to pass by in the store all the time, pear. Here is my Pear Lemonade Smoothie recipe that I am sure you will love!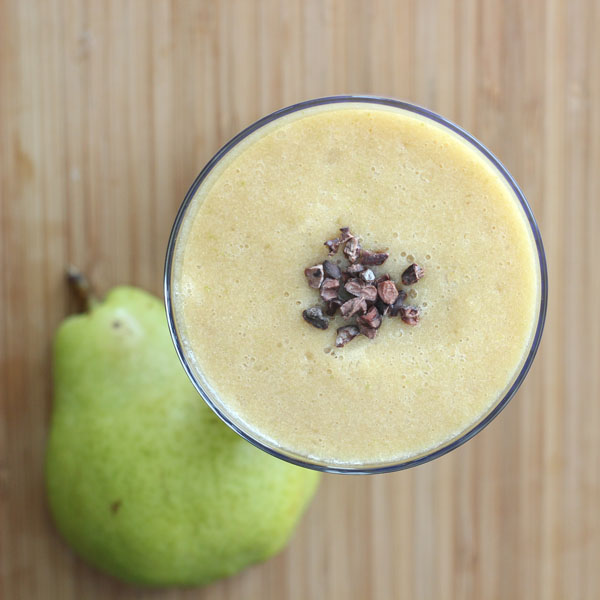 Please share this wonderful recipe:
So far this month we've had a Carrot Lemonade, a Blueberry Lemonade and an Orange Lemonade. This pear smoothie rounds out the month nicely.
I don't really know why I ignore the baskets of pears at the market. It seems like I go for apples over pears even though to me they seem like they are part of the same family. I also have to admit I don't know a lot about pears – they seem less sweet than apples. If you are as new to pears as I am, check out this guide about the different varieties of pears. At my market they had bartlett, anjou and bosc and after discussion with the farmer, I went with bartlett for this smoothie as I wanted to keep it on the sweet side.
Check out some of the health benefits of pears from fitsugar:
Pears are high in fiber. One medium-sized pear contains six grams of fiber.
Pears contain a fair amount of vitamins A, C, K, B2, B3, and B6 and they also contain folate. Pears also contain calcium, magnesium, potassium, copper, and manganese.
The hydroxycinnamic acid found in pears is also associated with preventing stomach and lung cancer.
Wow this one is pretty neat – pears are a hypo-allergenic fruit. That means those with food sensitivities can usually eat pears with no adverse effects.
Pear skin contains Quercetin which helps prevent cancer and artery damage that can lead to heart problems.
For this smoothie I decided to go with pomegranate powder and flax seeds as the superfoods. You can certainly add other superfoods like chia or acai, or leave out the superfoods if you don't have them on hand.
Pear Lemonade Superfood Smoothie Recipe
Ingredients
1 bartlett pear
juice of 1 lemon (if you like it tart, go for 1.5 lemons)
1 frozen banana
4 ounces orange juice (preferably fresh squeezed)
4 ounces water
2-3 handfuls of spinach
2 tablespoons pomegranate powder
2 tablespoons flax seeds
cacao nibs (optional for topping after blending)
liquid stevia – start with one dropper and then adjust as needed
Instructions
Blend it all up and enjoy!