I'd like to share the recipe for one of my favorite green smoothies…a peach green smoothie that incorporates a variety of superfoods to kick up the nutrition level. This smoothie is close behind my favorite strawberry green smoothie. I am sure once you try this smoothie, it will become one of your favorites too! And before we go on, don't forget to signup for my Smoothie a Day Newsletter!
This green smoothie uses the superfoods of ginger, maca, flax and chia. Remember that with any superfood smoothie, if you don't have the superfoods on hand, you can still make this smoothie without any/all. The superfoods won't change the taste of the smoothie…I find that they help increase the nutrition level and help with weight loss, detox and energy.
Please share this wonderful recipe:
My goal is to add as many things to my green smoothies without affecting the taste. This way I get the best possible nutrition in my cup of green goodness.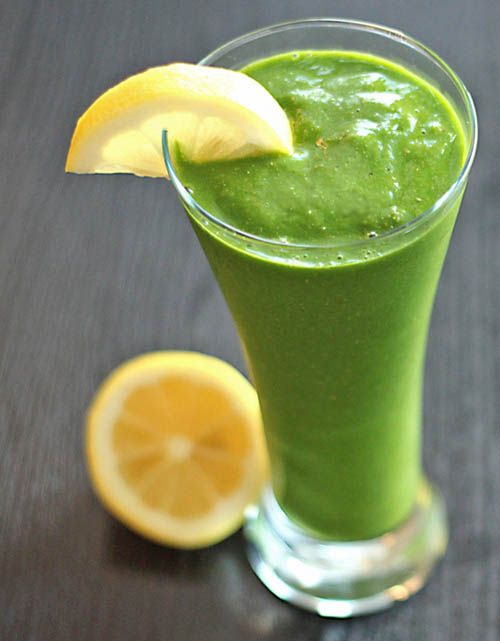 BTW, have you tried my super world famous apple snack?
Here are a few of the benefits of ginger and maca root powder:
Ginger (source):
Ginger is a diaphoretic… meaning that it makes you sweat. It is believed in the Philippines that chewing ginger will expel evil spirits
Ginger is shown to work wonders in the treatment of everything from cancer to migraines and stomach aches
Ginger is high in potassium and also contains manganese, silicon, vitamin A, C, E, B-complex, magnesium, phosphorus, sodium, iron, zinc, calcium, beta-carotene and helps with the absorption of calcium.
Maca (source):
Increases energy, endurance and stamina in your body.
Increases sexual strength as well and it acts as an aphrodisiac. Hence, both fertility and sexual desire are improved after consuming maca powder.
Increases your muscular strength. In fact, Incan warriors used it regularly to help them increase their strength and prowess in battle
Related: These are my favorite chia seeds.