Want a sweet and tasty treat that is also super healthy? You've got to check out my Chocolate Covered Apple recipe that uses raw cacao for the chocolate sauce. This recipe is also vegan and vegetarian. It only takes a couple minutes to make and will wow yourself and your guests.
It's been so unseasonably warm here in Austin this week. I've tried to play hookie on work and enjoy the outdoors and the beautiful weather. Although I must admit I'd love a couple days of snow. I've had a few smoothies near the pool and even a citrus-infused Yerba Mate earlier this week.
I had a craving for some chocolate so I wanted to create something that I could share with a friend that would be sweet but naturally also healthy. I've been on an apple kick as of late but wanted to make something other than my now world-famous apple snack. So why not put apple and chocolate together?!?! Oh yea!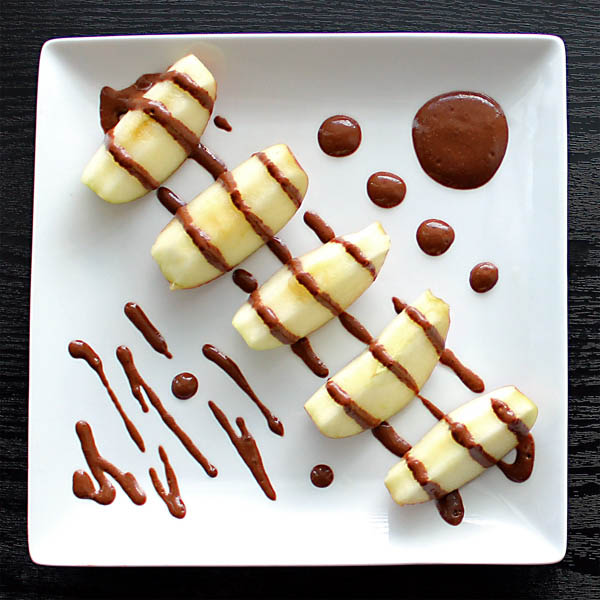 The pinch of lemon juice on the apples will give you a tart pop with the sweetness of the apples and the chocolate sauce.
Before we get to the recipe, check out some of the awesome health benefits of raw cacao powder – who knew that chocolate was good for you!  (source)
Cacao has more antioxidant flavonoids than any food tested so far, including blueberries, red wine, and black and green teas. In fact, it has up to four times the quantity of antioxidants found in green tea.
Raw cacao powder is a great source of magnesium, which is beneficial for heart health, good digestion, brain alertness, strong bones, and mental health.
A Harvard study focused on the Kuna Indians off the Caribbean coast of Panama who drink 5 cups of cacao every day, linking it to their lower rates of heart disease and hypertension.
Raw cacao can have a slightly bitter taste (it's not like a hershey bar) so you may want to play with the amount of stevia you use to make sure it comes out sweet. Over time I've found that I like the raw cacao close to direct from the bag but the recipe below is for someone just starting out with raw cacao and stevia.
I used NuNaturals alcohol-free stevia liquid and Navitas Naturals cacao powder for this recipe. I also used my Blendtec blender to blend the chocolate sauce.
Healthy Chocolate Cacao Covered Apples Recipe
Ingredients
1 apple (I used Fuji)
juice of ½ lemon
2-3 tablespoons raw cacao powder
1 frozen banana
4 ounces water
1-2 droppers liquid stevia
Instructions
juice lemon into bowl
slice apple into desired pieces and place into bowl with lemon juice
place bowl into fridge for 15 minutes
blend banana, cacao, water and stevia until smooth
after blending, taste and adjust stevia as needed until desired sweetness
You can either drizzle the chocolate sauce over your apple slices or place the raw cacao chocolate sauce into a bowl and then dip the apple slices as you eat them. The lemon juice will prevent the apple slices from browning.