The most popular that Smoothie a Day newsletter readers ask me is, "which is the best blender for making green smoothies?" I'd like to share my thoughts on which blender is the best and why the best blender might not be the one you think!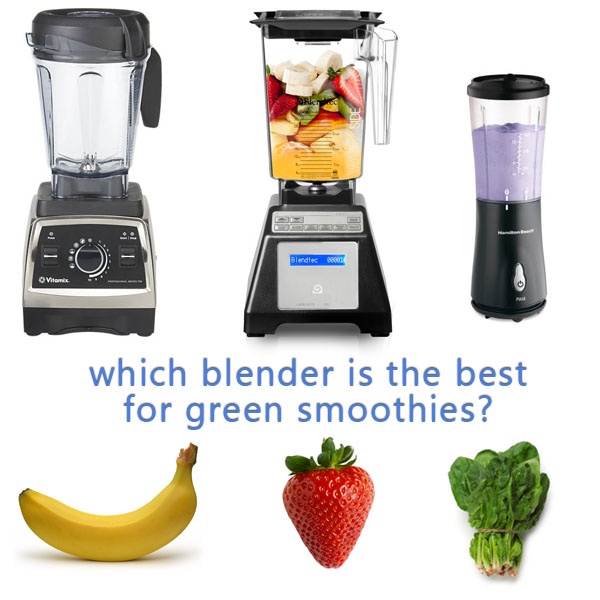 This month we took a look at the most popular questions from newsletter readers — Green Smoothie Detox vs. Green Juice Detox and How to Buy Superfoods Online. Questions about blenders are definitely the most popular by far. I know it's very important that you have a great blender to help with your green smoothies for weight loss and for better overall health.
If you like smoothies, you've got to check out my smoothie board on Pinterest!
The first answer about green smoothie blenders is…if you already have a blender, USE IT! I am not a fan of running out and spending money (could be a lot) for a fancy new blender if you already have a blender. If you don't have a high-speed blender like a Vitamix or Blendtec, here is my tip. Take the frozen fruit out of the freezer 30 minutes before blending your smoothie and leave it on your kitchen counter. It will soften up the fruit a touch which will help a regular blender combine everything together better.
If you don't have a blender now, I think blenders fall into 3 categories:
personal blender (generally 16 ounce size cup, easily portable unit)
standard blender (similar power to the personal blender but a larger jar size (usually blending capacity of 36-40 ounces)
high-speed, power blender (these are the top end of the blender market and the two top brands are Vitamix and Blendtec)
Personal Blender
In the personal blender category, I own the Tribest 250. It was the blender I started with and it is now the blender I travel with. I think it is a great blender – the blender comes with a 16 ounce cup and a 24 ounce extra large cup is available as an add-on. This Hamilton Beach personal blender has high reviews from newsletter subscribers and is only $15! This blender is great as a gift, add in a few superfoods and you will be giving the gift of health.
High Speed Blenders
In the world of high-speed, high-end blenders there are two brands that battle just the same as Microsoft vs. Apple. Those blenders come from Blendtec and Vitamix. I will say straight away that both blenders are amazing and either one you buy, you will love. My suggestion is to find a Costco in your area and try to get a demo in-store so you can see the machines for yourself. I use a Blendtec and absolutely love it.
I think Vitamix has come a long way in terms of design in the past year. Their newest models have a lot of the features that made Blendtec popular…namely the pre-set buttons and the under counter design. If I was to buy a new blender today and had the cash to spare, I think I'd go for the newest model of the Vitamix, the Professional Series 750. This is the most expensive model at a whopping $600+. The most popular Vitamix is the basic model, has just the two knobs – and it is a great model you will love – it's about $250 less than the 750.
Here is my general take on Blendtec vs. Vitamix. I very much suggest you check out John Kohler's videos on YouTube. He has tons of blender videos and some direct comparison videos between the Blendtec and Vitamix.
I picked Blendtec because it is quieter, has a better jar design and the overall design is better than Vitamix. I like the square jar because it is WAY easier to clean. The pre-programmed buttons are nice but honestly I would be fine with the manual knobs.
The Vitamix is more popular with foodies and people in the health and nutrition field so you will score points when you post a photo on Instagram with a Vitamix
I also think the tamper that Vitamix is known for is the biggest winner for Vitamix. There are many times where my smoothie is so thick that it gets "cavitation" and I need to stop the blender and loosen up the mix and re-start. With the tamper, that would never happen.
Again, overall both the Vitamix and the Blendtec are amazing machines and you will love either of them and they will last for a long, long time. And if you go with the personal blenders I recommend, those are also awesome. The main key point is to get started
Check out my blender list for more blenders.