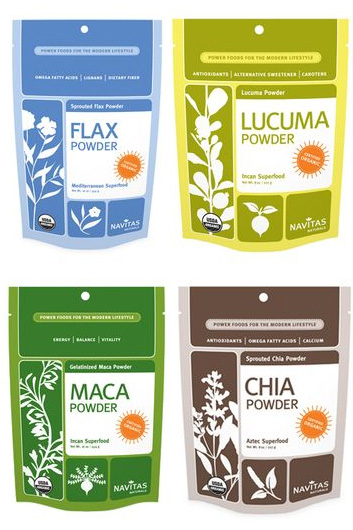 This month I want to answer the most popular reader questions I get on the Smoothie a Day newsletter. I've had many people ask me about how to buy superfoods for their smoothies and for helping finding the best deals on superfoods. Here is my take on how to buy, where to buy and some deals I've found.
Superfoods can definitely be pricey and frankly I think if you are starting out with green smoothies, it is best to just start simple with the combo of fruit + greens. That's what I did and am glad that I didn't start with a boatload of superfoods. I think after a short bit of time, it's great to add in some of the superfoods to your daily green smoothie. You are drinking a green smoothie every day, right?
One thing to remember is that while some of the superfoods can be pricey, the bags will last a very long time. I would guess they add about 10 cents a day to my smoothies.
It was last May that Linda introduced me to superfoods. She gave me a variety of samples from her stash including Maca, Chia, Acai, Colostrum and Spirulina. My regular routine today includes: Maca, Chia, Flax, Acai and Spirulina although the Spirulina I take as tablets before dinner. I find that they slightly change the taste of the smoothie so I would rather pop them as a tablet. My goal is to add as many superfoods as possible that don't alter the taste of the smoothie. I've also started using Maqui and Lucuma.
My favorite brand of superfoods is Navitas Naturals. I find the quality of their product to be top notch and I had to call them with a question and the support person helped me in a very friendly manner especially since I am a total newb when it comes to being a healthy person.
Anther option is to buy a superfood combo powder like Amazing Grass or Miessence. These combo powders are easy to use because they have a ton of superfoods and greens in them so you get the power of a variety of items in one powder. Read my note at the bottom of this post to make sure you buy the right things to get the most health benefits.
The best deals I've found on superfoods is either from Amazon or from iHerb. What's great about iHerb is that if you use my link, you will save $10 on a $40 order or $5 off a smaller order and they have free ship and no tax. It's like almost getting a free bag of a superfood for free. I like both of these companies because they ship fast and have great customer service. If you decide to buy from Amazon, make sure to check if the items have a "subscribe and save" option – this will generally save you 5% on the superfood and you can cancel the subscription as soon as the item ships.
I setup two shopping carts at iHerb with a great superfood starter pack
Cart 1 – has acai powder, chia seeds, flax seeds and maca powder
Cart 2 – has cacao powder, chia seeds, flax seeds and maca powder
Here are the links to the best superfood deals on Amazon:
One note – be careful when buying the superfoods – I suggest making sure you get the actual powder. There are lots of products that you will see if you search for say Acai that have some acai in them but aren't only acai and may have garbage added to them. So stay away from things like acai chews or gummies, acai drinks, etc. Buy the plain, simple powder and you will be good to go and be on your way to better health and weight loss!