As we continue "lemonade smoothie month", I'd like to share my Blueberry Lemonade Superfood Smoothie recipe. This superfood smoothie will give you a great boost of energy and is a perfect way to start your day.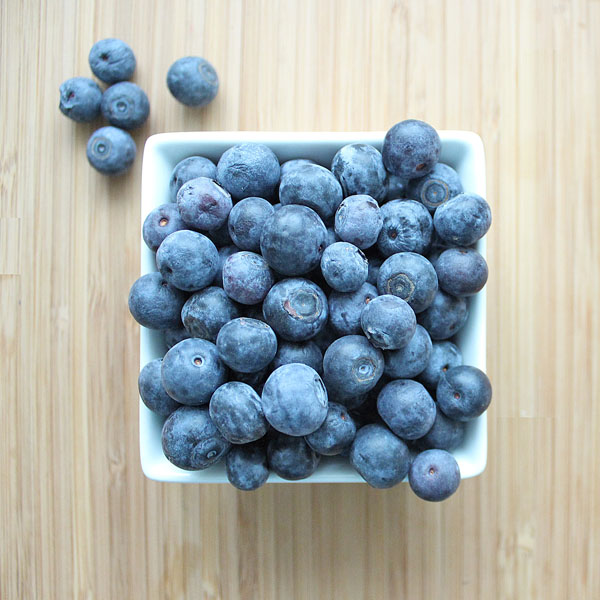 I tried to keep this smoothie very simple using just a few ingredients and a couple superfoods. I've heard from several newsletter subscribers that they would love more super basic smoothies so here we are.
Did you know that blueberry consumption in North America has tripled since 1995? In 2011, people in North America consumed over 853 million pounds of blueberries! If we laid them end to end, they would circle the earth 22 times. Ok maybe not but that would be pretty neat if they did!
Some other interesting bits about the blueberry from the Blueberry Council:
In just one serving, you can get 14 mg of Vitamin C – almost 25 percent of your daily requirement. Vitamin C aids the formation of collagen and helps maintain healthy gums and capillaries. It also promotes iron absorption and a healthy immune system.
Blueberries are an excellent source of manganese — manganese plays an important role in bone development and in converting the proteins, carbohydrates and fats in food into to energy.
Researchers have found compounds in blueberries that help prevent urinary tract infection.
Blueberries rank high in antioxidants that help protect against cancer, heart disease and other age-related diseases.
The superfoods I picked for this blueberry smoothie are maqui powder and maca powder. Of course you can add more superfoods like flax seeds, chia seeds, etc.
I use maca every other day – it is one of the superfoods I can instantly feel when I drink a smoothie that has maca in it. Here are some of the health benefits of maca, which is a root that belongs to the radish family and is grown in the mountains of Peru.
Maca is widely used to promote sexual function of both men and women. It serves as a boost to your libido and increases endurance. At the same time it balances your hormones and increases fertility.
Maca is rich in vitamin B12 and protein, which is very helpful for vegans. It also keeps you healthy by providing vitamins B1, B2, B12, C and E. It provides plenty of calcium, zinc, iron, magnesium, phosphorous and amino acids.
Maca can help with anxiety, stress, depression or mood swings, though of the evidence is anecdotal. Some have reported an increase in mental energy and focus. (source)
Maqui is a newer superfood for me – I had been sticking with the superfood smorgasbord that Linda gave me when I started with superfoods nearly a year ago (wow the time has flown by!). Maqui is a great addition to my superfoods cupboard as the Chilean maqui berry is one of the most antioxidant-rich foods. It contains an abundance of vitamin C, calcium, iron and potassium, anti-aging anthocyanins and polyphenols, and anti-inflammatory compounds. The berry has a slight fruity flavor so it works great with this blueberry smoothie.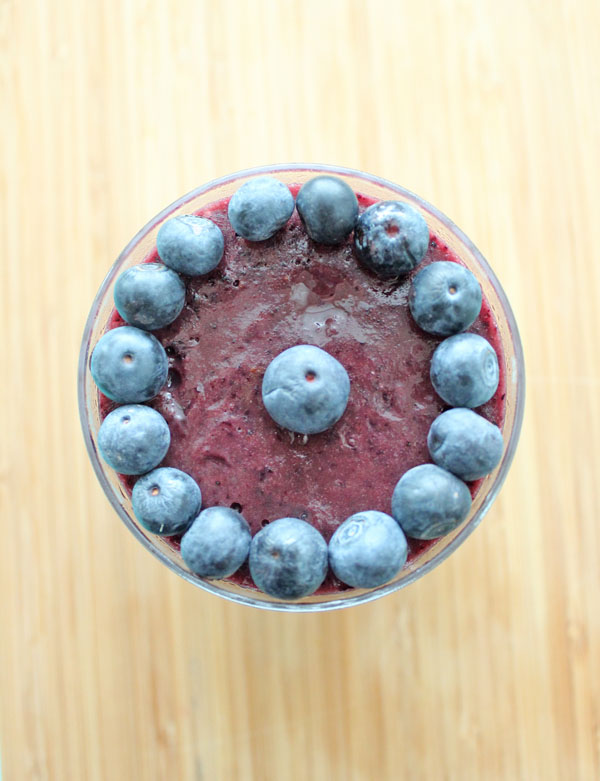 Blueberry Lemonade Smoothie Recipe
Ingredients
6 ounces blueberries (frozen or fresh)
½ frozen banana
juice of one lemon
8 ounces water
2 tsp maqui powder
1 teaspoon raw maca powder
1-2 handfuls of spinach
liquid stevia to taste
Instructions
Blend
Then taste the smoothie and add liquid stevia until you reach your desired sweetness level.