The SXSW conference/festival was here in town the past two weeks and I wanted to create a smoothie that could work as a frozen treat for my friends in town. This Orange Lemonade Smoothie recipe works perfectly as either a regular green smoothie or as a frozen treat very similar to the italian ice I ate growing up in NYC.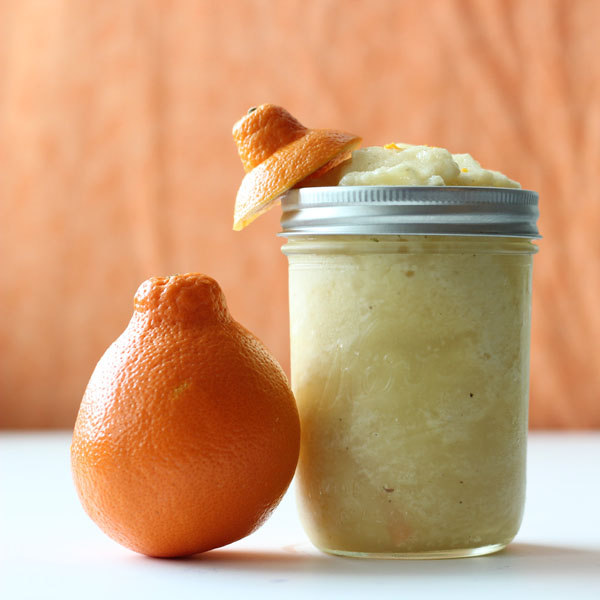 Please share this wonderful recipe:
This month I am focusing on creating Lemonade smoothies for my Smoothie a Day newsletter. First we had the Carrot Lemonade which has quickly become one of my most popular recipes and then last week I posted my Blueberry Lemonade Smoothie recipe.
If you like smoothies, you should totally follow my Smoothie Board on Pinterest.
Almost any type of orange will work for this recipe. I tried it several times with cara cara oranges, navel oranges, the "cuties" and the recipe below which uses tangelos which isn't really an orange but more like a combo of a grapefruit and a tangerine. The popular brand name for tangelos is "honeybells".
Don't forget to check out my new post about how to buy superfoods – I've received several emails that it has saved people money which is awesome.
There are two great citrus juicers to check out – this one is manual and is only $6 and then this one is electric and is $17 and holds like 4 cups of citrus juice. I've been moving away from boxed orange juice in my smoothies and the manual juicer has worked great for me so far.
If you decide to make the frozen pops, they will stay in the freezer for a good while and are perfect for kids as an after school snack. So much better than those "freezer pops" which are full of artificial crap and are full of hfcs and sugar. Make the healthy choice for your kids
Some interesting facts about oranges from Juicing for Health:
Regularly consuming vitamin C retards the development of hardening of the arteries.
The alkaloid synephrine found under the orange peel can reduce the liver's production of cholesterol.
An orange a day is sufficient for a man to keep his sperm healthy.
The strong content of vitamin C stimulates white cells to fight infection, naturally building a good immune system.
Drinking orange juice daily can significantly drop the risk of formation of calcium oxalate stones in the kidney.
I decided on Goji powder and chia seeds as the superfoods for this smoothie. As I always say, if you don't have the superfoods or if you have others that you like, use them or make the smoothie without them. The best part about green smoothies is that you can throw in whatever you like and it will taste great!
Orange Lemonade Superfood Smoothie Recipe
Ingredients
6 ounces fresh squeezed orange juice (can also use tangelos)
juice of 2 lemons (meyer lemons would work great)
1 frozen banana
5-6 ice cubes
1 tablespoon goji powder
1 tablespoon chia seeds
water (use only enough to blend smoothie to desired thickness)
2-3 handfuls spinach
liquid stevia (one dropper if you use tangelos)
Instructions
Blend and add water until reach desired consistency.
If you want to create the freezer pops, blend and place into freezer pop molds and freeze until frozen. If making pops, this recipe will make 4 pops of average pop size.