I can't start my day without my green smoothie. It's such a bad addiction that I have to carry my travel blender with me just so I can make my green smoothies in hotels during my business trips and vacations. And let's not forget my Smoothie a Day Newsletter!
This is quickly becoming one of my favorite superfood smoothies. The superfoods are optional but they add tons of health power and don't change the taste of the smoothies. If you are going to start with just one, I'd suggest either the acai or the chia. It's important to note that when you add spinach or other greens to dark berry smoothies, the smoothie will become kind of an ugly color. I don't mind it, but if you do, just put the smoothie in a cup you can't see in. I promise it still tastes amazing. Since the color is not so pretty, the photo below is pre-spinach'ed.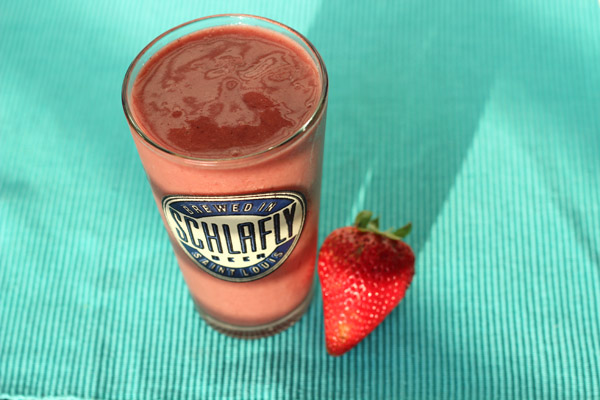 Triple Berry Superfood Green Smoothie:
Ingredients:
one banana (can be frozen or fresh)
1 cup strawberries
1/2 cup raspberries
1/2 cup blueberries
one teaspoon acai berry powder
4 ounces apple juice
6 ounces cold water
one tablespoon chia seeds (optional; if you add the chia seeds, make sure you consume the smoothie after blending because otherwise the chia grows like the chia pet and will make the smoothie a bit like pudding)
spinach (as much as you can fit in your blender – I used about 1/3 pound or 4 huge handfuls)
Directions: Blend until you reach your desired consistency
This recipe makes about 28-32oz of smoothie and I used my Blendtec blender to whip it up. I used organic spinach, organic superfoods and organic banana — the frozen berries were conventional.