Since learning how to make a frittata last summer, I've totally enjoyed the egg dish. Frittatas are super easy to make, very healthy and are perfect for taking to work for lunch or for a weekend brunch.
Being honest here, I haven't done great at lunch. I do amazingly well with healthy meals for breakfast and dinner and then green juice for an evening snack, but for lunch, I only do a good job. It's definitely the meal that I could improve on and frittatas are a perfect way to upgrade lunch.
If you haven't heard of a frittata, it's basically a fancier version of an omelette that eats like a slice of deep-dish pizza. You start the frittata exactly the same way you cook an omelette but you pop it into the oven/broiler for a few minutes at the end. It will wow your brunch guests and will also satisfy you at lunch.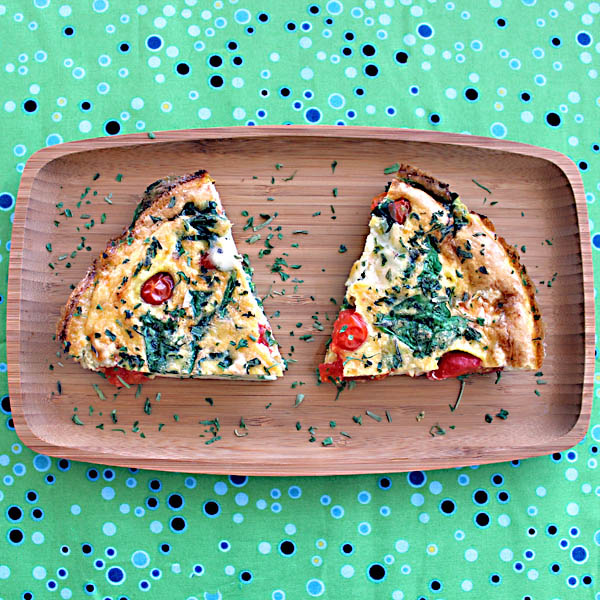 I first learned how to make a frittata during a cooking lesson with my nutritionist. I was a bit shocked at how easy they are to make. You beat the eggs, add the other ingredients to your mixing bowl, stir, pop into your frying pan and then for a few minutes at the end, put it into the oven on the broiler setting to "crust" the frittata. Take it out of the oven, slide it out of your pan, slice it up like a pizza and enjoy. You can store the frittata in the fridge for a few days and enjoy it cold or re-heat as desired. What's great about a frittata is that you can hide lots of veggies in them and you can also just put in anything you have laying around.
Easy and Healthy Frittata Recipe
Ingredients
6 eggs (try to get the best quality eggs you can)
4-6 ounces of goat cheese (crumble it up)
½ pint cherry tomatoes (diced)
3 large handfuls baby spinach
1-2 slices of yellow onion (cut in thin slivers)
pinch sea salt
small pat of organic butter
pinch of dried herbs (I used parsley, chives, chervil and tarragon)
Instructions
Preheat oven to 400 degrees or set on broiler option
Beat eggs and mix with cheese
Melt butter then add veggies and wilt the spinach
Add egg and cheese mixture and herbs to pan
Cook mixture on top of the stove until the eggs are just barely set
Place pan into oven and cook until golden brown on top
Take pan out of oven (be careful, handle will be HOT!)
Slide frittata out of pan, slice and enjoy
Next time I plan to use campari tomatoes in my frittata as they will add a burst of sweetness to the dish. Also, make sure you use a non-stick pan for this dish and also make sure your pan can go into the oven. This is the frying pan I use and absolutely love it. It's got the new "green" nonstick and has been awesome with the nonstick properties even with no butter or sprays. It's also a perfect size for a frittata.
For another healthy frittata recipe, check out Linda's recipe.