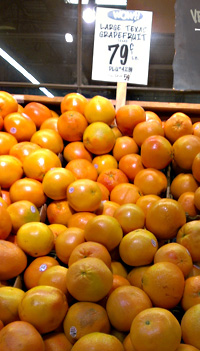 Grapefruits were on a huge sale at the market I shopped at this morning so I decided to make this week's green smoothie for the newsletter a grapefruit green smoothie. The grapefruit I purchased was huge and was only 80 cents! I remember my mom eating grapefruit when I was a young kid but I don't remember ever eating it myself. Of course I don't remember eating any fruit or veggies as a kid!
One of the questions I've received a few times the past week is whether all smoothies are good for weight loss. There are plenty of companies using the term smoothie now for garbage smoothies (i.e. fast food shops) so you want to make sure you consume smoothies with only fruit and greens (no dairy). I have a weight loss green smoothie recipe that I like a lot. I think that green smoothies can help you lose weight if you replace say a crappy breakfast with the green smoothie. I've lost 100 pounds since February by drinking a green smoothie every morning (even when I travel!) and eating well the rest of the day. If I drank the green smoothie and then ate junk food the rest of the day, I wouldn't have lost any weight.
I was impressed with the taste of my first grapefruit green smoothie. The grapefruit has more liquid than berries so the amount of additional liquid is reduced. I also increased the amount of banana in this smoothie to help make it a bit thicker. I buy organic bananas once a week and freeze them, this way I am always ready to make a green smoothie anytime i want.
I add ginger to every smoothie I make and truly believe it has helped me feel better and better. I also suggest you add spinach or kale to every single smoothie you make. Neither leafy green will change the taste of the smoothie but will increase the nutritional value of the smoothie. Even if a recipe you download doesn't call for leafy greens, you should stick some into your blender when no one is looking
.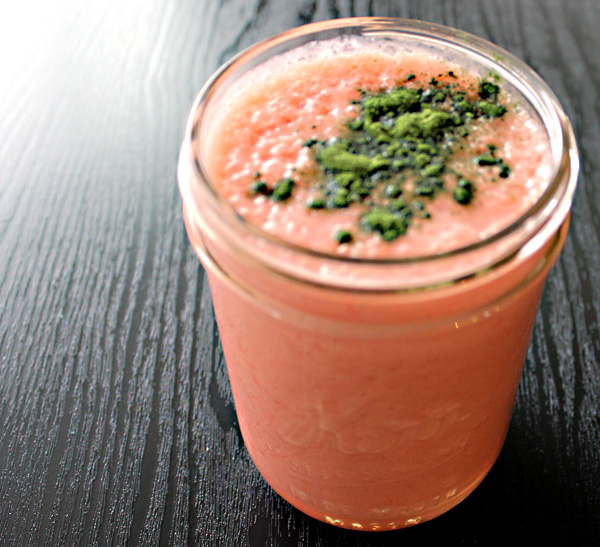 Grapefruit Ginger Green Smoothie
Ingredients
1 large grapefruit, peeled and cut
1.5 frozen bananas
4 ounces water
3-4 handfuls of spinach (or as much as your blender will allow)
½ inch ginger
1 teaspoon green powder (optional, I used Miessence)
Instructions
Place all ingredients into the blender, blend then enjoy!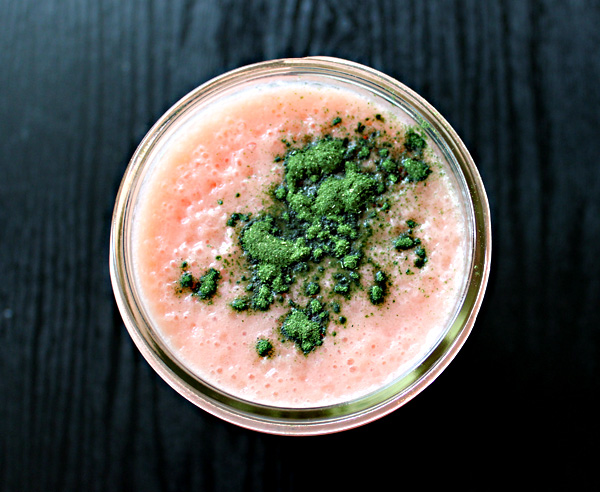 Note: the photos were taken before the greens were added. The grapefruit was non-organic, the spinach, bananas, ginger and Miessence green powder are all organic.