I want to say thank you to each one of you who has visited and/or shared the Apple Snack recipe from earlier this week. It's been crazy to see the Pinterest shares and Facebook likes on this recipe! If you are a regular LTF reader, you know my one goal with this website is to help at least one kid to be healthy and not obese. I know what it's like to grow up fat and I want to do everything I can to help kids not go down the same path.
Update: January 2013: Over 300k pins for my apple snack and over 1,000 Facebook shares – thank you to everyone who has shared the recipe and sent me feedback. Hearing that kids and families are enjoying this healthy snack makes me smile on the inside and outside.
There was one comment that just made me smile inside. It's from my Google+ post here…from Eric Breitholtz, "Tried it and it was more than great. I would cut down just a little on the lemon if your giving this to young kids". That is so awesome to think that this apple snack was enjoyed by some kids. Yes! Yes! Oh Yes!
Here's another couple neat things…check out just a select few of the repin counts from Pinterest:

And check this out – it's some of the Pins (not repins) that ya'all created: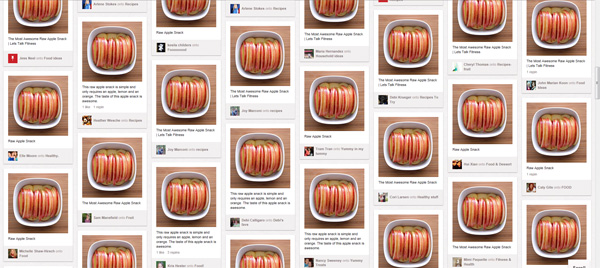 Thanks again – together we are going to all get healthy and fit!