Yesterday was Valentine's Day and I wanted to work on something that said, "your heart completes me". I don't know why but while walking around the produce department at Whole Foods, the idea of creating a combined apple plus a heart hit me as a possible idea. But how would I create the heart shape inside the apple while still maintaining the apple shape? I figured using a knife could make the heart shape but what I wanted to do was create what you see in the photo below. Basically taking the heart shape from one apple and inserting it into the other apple perfectly.
I had a bunch of people email me after I posted the photo asking for how it is done, so here are the details.
Please share this wonderful recipe:
Walking from the produce section to the chicken section, I passed a display of cookie cutters and like a spark, that was the way to do it! The only issue now is how do I get the piece out after I push the cookie cutter in? Well stay with me because I have an easy way to handle that part of this do-it-yourself, show someone you care about them, apple snack. This technique can also be done on a pear as well.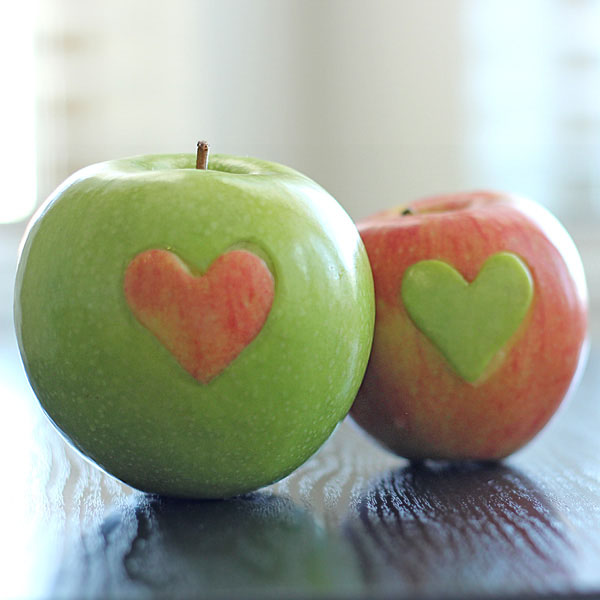 This is a great project to do with kids as well (an adult would handle the knife part).  You can also do this with other cookie cutter shapes like a star. I'd suggest staying away from any cookie cutters that are super complicated because it will be hard to get the piece out of the apple without ruining part of the design.
The cookie cutters at Whole Foods were a bit too big for this project. I found a large assortment of cookie cutters at Sur La Table and their heart-shaped cookie cutters were 75 cents! Be careful going to Sur La Table as you may walk out with items you never thought you needed but have to have. Make sure the cookie cutter you buy will fit inside your apple – the "mini" size cutters all seemed to fit perfect. Amazon has some mini heart-shaped cookie cutters as well.
To create these apple hearts, you will need:
2 apples, one green, one red – variety can be whatever apples you and the person you will share will enjoy
1 lemon
mini heart shaped cookie cutter
a sharp paring knife
It's really easy to do!
Juice the lemon into a bowl
Push the cookie cutter into the apple almost as far as the cookie cutter will go
Slightly rock the cookie cutter back and forth
Pull cookie cutter out of apple
Using paring knife, work your way towards the middle of the apple so the heart piece will pop out. Do this part slowly so as not to open the space up too much.
When the apple piece pops out, put it into the lemon juice to keep it from browning. Also spoon some of the lemon juice into the apple hole
Repeat on other apple
Swap hearts in the apple
Enjoy!
These fun apples would be great for kids as they may wonder how it was done – you can just tell them it is a magic apple and if they eat it, something special will happen.
Imagine a child pulling one of these apples out of their lunchbox – they will certainly be the coolest kid at the lunch table.