Have a look at my super tasty Cherry Green Superfood Smoothie which is perfect post-workout as cherries, ginger, turmeric and the maqui berry have great anti-inflammatory health and nutrition benefits.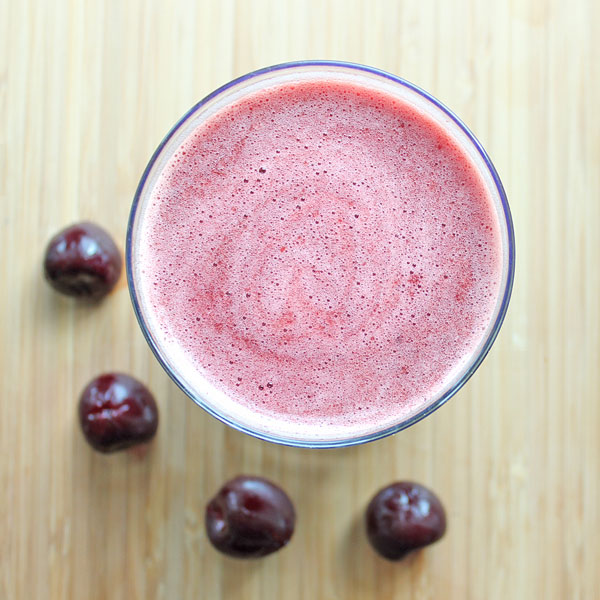 During my last workout with Ashli, I mentioned that this week I wanted to create a cherry green smoothie. She immediately replied that cherries are great post-workout as they have a number of anti-inflammatory benefits which is something that is important after you finish cardio or weight training. And since I will be starting next week at Kor180 working on their reformer pilates machine and twisting and turning like never before, this smoothie will become a regular green smoothie in my "smoothie rotation".
Please share this wonderful recipe:
Last year the American College of Sports Medicine Conference presented research that suggests tart cherries have the "highest anti-inflammatory content of any food" and can help people with osteoarthritis manage their disease. In a study of twenty women ages 40 to 70 with inflammatory osteoarthritis, the researchers found that drinking tart cherry juice twice daily for three weeks led to significant reductions in important inflammation markers – especially for women who had the highest inflammation levels at the start of the study.
Dr. Kerry Kuehl, the study's principal investigator, said he is intrigued by the potential for a real food to offer such a powerful anti-inflammatory benefit, especially for active adults. "With millions of Americans looking for ways to naturally manage pain, it's promising that tart cherries can help, without the possible side effects often associated with arthritis medications," Kuehl said in a release.
And what about ginger? I absolutely love adding ginger to my smoothies and do so every day.
The University of Georgia recently found it can also reduce muscle pain after exercise by 25 percent. "Gingerol is the potent phytonutrient in ginger that is believed to supply pain-relieving properties," Kari Kooi, RD, corporate wellness dietician at The Methodist Hospital in Houston says. "In fact, a study found that ginger might be just as effective as non-steroidal anti-inflammatory drugs (NSAIDs) like aspirin and ibuprofen to treat postexercise soreness."
Oh and we've got the powerhouse of turmeric in this smoothie too. Turmeric (Curcuma longa) has been used for 4,000 years to treat a variety of conditions. Studies show that turmeric may help fight infections and some cancers, reduce inflammation, and treat digestive problems. Check out more about the awesome health and nutrition benefits of turmeric from the University of Maryland.
Lastly we've got the Maqui berry in this smoothie. Navitas Naturals notes, "the antioxidants in Maqui Powder may support healthy cardiovascular function, regulate blood sugar levels and decrease inflammation. The thermogenic properties of maqui berries may aid in maintaining a healthy body weight." Maqui berry is a low calorie, nutrient rich food and therefore a healthy addition to any effective weight loss program. Its potential to help balance blood sugar levels may also help prevent the body from producing new fat cells, which may in turn also help prevent gaining unwanted weight.
Anti-Inflammatory Cherry Green Smoothie
Ingredients
1 cup frozen cherries
1 frozen banana
½ knob of ginger
2-3 handfuls of spinach
8 ounces water
¼ teaspoon turmeric
2 teaspoons Maqui Berry powder
Instructions
Blend and enjoy!