Awesome Raw Apple Snack
Today I would like to introduce you to the most awesome raw apple snack ever. First a disclaimer, I am not liable if you decide to eat this apple snack every day for the rest of your life. A huge bowl of this apple snack was eaten by a group in minutes – it really is that good. And the best part? It takes only 3 fruits and 2 minutes prep to make!
Please share this wonderful recipe:
What's even better about this snack is the healthy nutrition! You are eating a full apple plus the amazing juice of an orange and lemon. Think of the vitamins, minerals and antioxidants and most of all…think of the children! This is a perfect after-school snack because it takes a minute to make and will give the kids an energy boost to do their homework and exercise.
Super New Update!
***January 2013: Check out my brand new
Apple Crisps
recipe – it is SO addicting!
Update: Welcome new friends! If you like this apple recipe, you may wish to follow me on Pinterest, Facebook and Twitter – thanks so much for stopping by! And don't forget to signup for the new Smoothie a Day newsletter!
Update 2: Check out my totally new and detailed Green Smoothie FAQ & Starter Guide!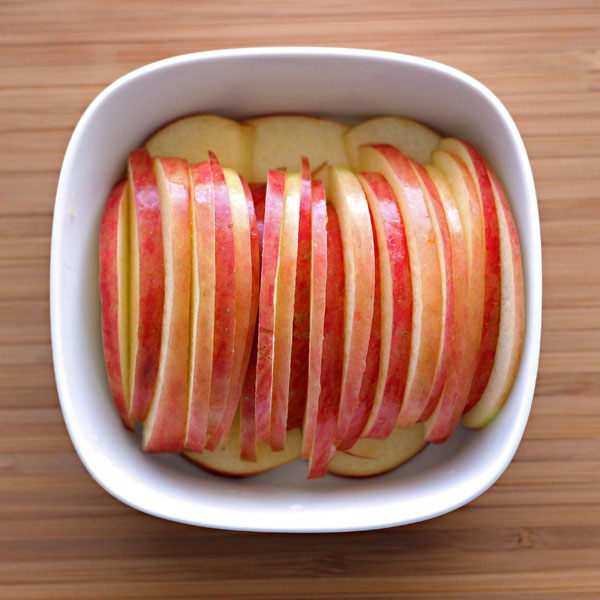 Raw Apple Snack Recipe
Ingredients:
1-2 apples – select a sweet apple like Fuji or Gala (I used Fuji)
1 medium orange
1 medium lemon
Prep:
Juice lemon and orange into a small bowl
Slice the apple into thin slices (see image below)
Place slices into juice bowl and make sure the juice is all over the apple slices
Place bowl in fridge for 30minutes-2 hours
Remove from fridge, serve and enjoy! Warning: contents are addicting!
Optional: you can use a green apple in place of one of the other apples to give the plate some contrast for your guests. The green apples (e.g. granny smith) will make the snack even more tart and should explode of awesomeness when you and your guests enjoy!
Related: If you don't want to cutup the apple with a knife, this Apple Slicer will do it in one step and it also removes the core.
KIDS LOVE THE APPLE SNACK! Check out my niece enjoying the apple snack on my visit to Charlotte last weekend.